For to us a child is born, to us a son is given; and the government shall be upon his shoulders, and his name shall be called Wonderful Counselor, Mighty God, Everlasting Father, Prince of Peace. – Isaiah 9:6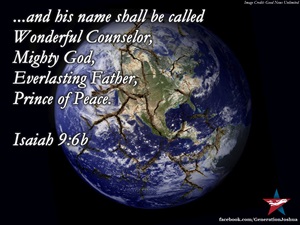 Most often we think of this as a verse for Christmas, talking about Jesus as the promised
Savior being born. Yet in light of the last week's tragedies, I wanted to call us back to it, remembering that it speaks of the true source of peace. It is not found in government policies, affirmative action, protests, or #hastags. No, peace is only found in the person of Jesus Christ and his redemptive and restorative work for our broken and dying world.
If you don't look around at our world and see it in pain, I think you need to open your eyes. But for most of us, I think we see the agony, and the excruciating pain, we just forget that we know the solution. That is in Christ.
I am not saying that we don't need to look at policy changes, or pursue racial reconciliation, or bring justice to murderers. Those are all good and needed things.
What I am saying is that we who are believers need to call our nation and our friends to our Lord. He is the ultimate source of peace and we, on our own, are utterly failing to achieve.
He loves each person here uniquely. It does not matter their skin color, their cultural heritage, their net worth, or their background. He weeps at the tragedy that is the death of anyone, for they are made in His image. It should make us weep as well.
We say with the Apostle John, "Come, Lord Jesus!"
Post by Joel Grewe