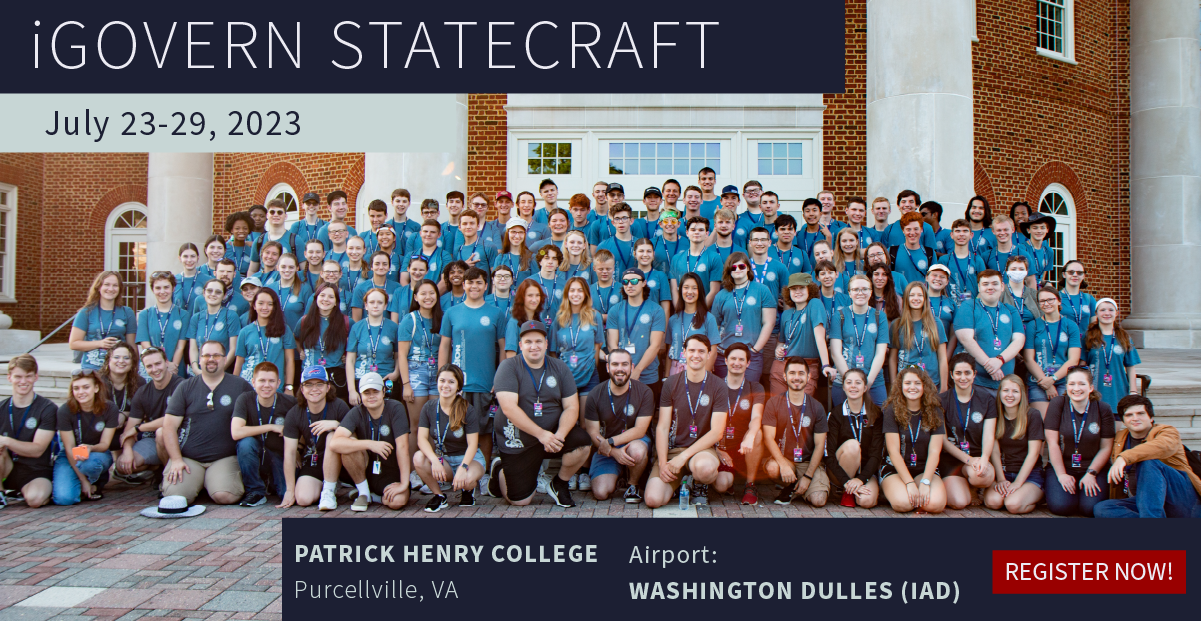 iGovern Statecraft:
Politics on an International Stage
At iGovern Statecraft, you will spend the week as an official of the Executive Branch, a world news journalist, or a foreign ambassador.
As a U.S. official, you will be entrusted with the United States foreign policy, our diplomatic, intelligence, and military resources, and a very sticky international crisis. You can also choose to represent a different nation. Delegations will be attending an international summit where they will be tasked with competing priorities and agendas from their respective homelands. Journalists will hold all parties accountable and make sure the people are informed as to what is happening and how it impacts their lives.
During a week of highly detailed simulation and in-depth instruction, you will test current ideas, consider new approaches, and come away with a much deeper understanding of the affairs of nations. You will learn what leadership means, participate in team games, and develop lasting friendships with your fellow students and counselors.
So much to do, so little time! Each day at a Generation Joshua iGovern camp is jam-packed with activities. Whether it's starting the day with an uplifting chapel service, listening to inspiring speakers, strategizing with your team, drafting proposals to win support in the international community, or participating in any number of recreational activities, this camp promises to keep you busy!

Chapel

Each day, the drama of the simulation pauses as staff and students gather for worship and a message from one of our camp speakers during Chapel sessions.

Over the years, Chapel has become the single most highlighted aspect of the week in camper feedback forms and testimonies. Life-changing ministry takes place as students are encouraged and inspired by the truth of God's word and the hope of the Gospel.

At the end of each day, students have the chance to ask questions and dive deeper during small group devotions led by the camp counselor in their wing.

Lectures and Speakers

At iGovern, participants will hear from prominent conservative leaders and thinkers. Past speakers include:

Mike Pence, Vice President of the United States
Ben Sasse, U.S. Senator
Cory Gardner, U.S. Senator
Virginia Foxx, U.S. Congresswoman
Tom McClintock, U.S. Congressman
Dr. James Dobson, Founder of Focus on the Family
Wendy Wright, Former President of Concerned Women for America

Lila Rose, President of LiveAction
Ryan Bomberger, Founder of The Radiance Foundation

Politics

At camp, your job will be to navigate the (often murky) waters of international politics--along with the competing interests, ideals, and morals that come with the territory. To succeed, you will need to balance firm resolve with diplomatic tact. On the world stage, you never have the power to unilaterally enforce your will. You must cultivate alliances, cooperate effectively, and choose your battles wisely.

Fun and Games

iGovern gives you the chance to connect with old friends and make new ones during our packed week-long program. You'll connect over shared interests and causes, and develop these friendships as you work and play together.
Transportation Information

Transportation is provided from Washington Dulles International Airport (IAD) only. For arrivals at the start of camp, the first shuttle arrives at IAD at 2 p.m. Sunday and the final shuttle leaves the airport at 4:30 p.m. Sunday. Any student arriving after 4:30 p.m. will need to pay for his or her own transportation to iGovern.

For departures at the end of camp, the first shuttle will arrive at at 5:30 a.m. on Saturday and the last will arrive at 12 p.m. There are no exceptions to arrival and departure times.

If a camper is traveling as an unaccompanied minor, there is a $50 fee. Also, they must arrive during our shuttle times, and we must know in advance. Airline policies require GenJ Camp staff to sign paperwork stating that we have picked up the passenger and require us on departure to wait with the passenger at the gate until they have boarded the plane. Thus, the departure must occur prior to 12 p.m. on Saturday so that our staff can return to campus on the last shuttle.

GenJ has partnered with United Airlines to provide discounted airfare for your travel to iGovern. To take advantage of this discount, click here and enter code ZN3A426308 in the "Offer Code" box.

Driving

Registration is 2-5 p.m. on Sunday. Dinner is offered from 5 to 6 p.m. If you want to take advantage of that, arrive earlier to ensure adequate time to settle in. All campers must depart Saturday before 12 p.m.
Eligibility & Pricing Guide

Generation Joshua tries to make its camps as affordable as possible to teens and their families. Toward that end, our prices are often below the costs of comparable camps. We encourage all of our potential participants to start saving today. Camp is more affordable than you might think!

Eligibility and Age

iGovern Statecraft is open to any Generation Joshua member between the ages of 14–19.

Prices

In January and February, the cost for the entire week of camp is $630. On March 1, the cost will increase to $695. On May 1, the cost will increase to $795. On July 1, the cost will increase to $845. (Register as soon as possible to get the best price!)

Registration includes: pickup and drop-off from Washington Dulles Int'l Airport (IAD), lodging, food (17 meals — Sunday evening through Saturday morning), access to all iGovern activities, and a week of summer-defining adventure!

Note: We never want cost to be the reason someone doesn't come to camp. If it's hard for you to afford camp in today's economy, please consider applying for an iGovern Scholarship.

Click here

to apply.

Cancellation Policy

Your camp registration includes a $100 non-refundable deposit. Of the remaining amount the following applies:

If you cancel on or before March 31, you will receive 100% of your refundable deposit.
If you cancel on or before June 30, you will receive 50% of your refundable deposit.
If you cancel after June 30, you will not receive a refund.

Please Note: If you are attending both iGovern East and iGovern Statecraft and staying at Patrick Henry College on July 22, there will be one $85 charge added to your account to cover room and board between the camps.